Melalite Forte Cream 4% contains Hydroquinone, which belongs to the medicinal group known as Demelanizing agents. People use this cream to lighten the darkened area, such as Chloasma patches on the face because of some hormonal changes in pregnancy, Melasma (patches because of sun exposure), freckles (small brown spots because of sun exposure), acne scars and age spots.
Skin darkening happens when too much melanin deposits in the skin, and that is known as epidermal hyperpigmentation. It is the common problem that happens to a person. With the use of Melalite Forte Cream, the amount of melanin decreases.
But it is essential to consult the doctor and information them if you have any inflammatory skin condition, skin cancer, or other medicines medicine that you take that cause light sensitivity.
One should not use the medicine if you are exposed to sunlight for a long time. Your doctor may advise you to use sunscreen and Melalite Forte Cream to avoid skin pigmentation.
[presto_player id=12899]
What is the use of Melalite Forte Cream 4%?
A person can use Melalite Forte Cream 4% to lighten the areas of darkened skin, such as Melasma, age spots, acne scars, and freckles.
How Does It Work?
Melalite Forte Cream 4% is used as the pigmentation agent on the skip to lighten the cell activity, which is known as melanocytes. These cells produce melanin that leads to skin darkening.
With the help of this medicine, you can reduce the over-activities of these cells by blocking melanin production, which leads to fading brown spots.
Benefits of Melalite Forte Cream 4%
Darkening of skin or Melasma is a common problem that can happen to your skin. It may cause discolored patches on your skin. The problem occurs more in women as compared to men.
With this medicine, you can lighten the dark patches on the skin that usually happen during birth control pills, hormone medicine, pregnancy, or when there is some injury.
Melalite Forte Cream reduces the rash, itchiness, redness, or pain caused by this condition. It also helps in enhancing self-esteem and confidence when your appearance changes. But one should use it as prescribed and apply the amount that has been told to you.

Can Melalite Cream be used for dark circles?
In order to find out if melalite cream is effective on dark circles, here are a few things you should know. Melalite cream works by causing your skin to be lighter so that those black spots and scars become invisible.
The manufacturers of melalite claim that you will notice dramatic results after only one month's use. They also claim that melalite cream is much more effective than any other product on the market. To make sure whether they are telling facts or just sales tactics, you need to consult your doctor and ask him/her about the possible side effects of using melalite forte 4 cream.
Make sure to go over all instructions regarding dosage, frequency, and safety with your doctor before using it.
Dosage
The amount of the cream will be decided by the doctor. A person should not use more and not miss the cream; otherwise, there will be some consequences.
It is not right to overdose on the Melalite Forte Cream, but in some cases, you may face a burning sensation or redness when you apply it. You must consult the doctor and visit the hospital if you have ingested it accidentally. It is a poisonous cream and may even cause hemolytic and convulsions if you ingest it in large amounts.
If someone has missed a dose of Melalite Forte Cream, then they should apply it as soon as they remember. But, if it is already time for the next dose, it is better to skip the missed dose and just go back to the regular schedule. But one should not double the dose.
Side-Effects of Melalite Forte Cream 4%
Dry skin
Mild itching
Burning sensation
Erythema (skin redness)
How to manage side effects?
Drink as much water as you can and stay hydrated. After consulting with the doctor, you should apply some moisture several times a day. One should not take bath for a long time and use warm water for bathing. If there are any symptoms, you should consult the doctor and improve them.
One should avoid a hot shower because it may irritate your skin. Do not scratch the area which is affected. Avoid UV Rays or sun exposure to sensitize the skin. One should use protective clothing and sunscreen when you are going outside.
Precautions and Warnings
Allergy- You should not apply Melalite Forte Cream 4% if you are allergic to Hydroquinone or any other ingredient of this medicine.
Pregnancy- Do not use Melalite Forte Cream 4% if you are pregnant because of a lack of data. It is always better to consult your doctor before applying the cream.
Breastfeeding- Melalite Forte Cream is not recommended to use if you are a breastfeeding woman. Better to consult with your doctor.
Others – One should not use this medicine if they are exposed to sunlight regularly. Plus you should also inform your doctor if there is any skin cancer or inflammatory skin condition.
Drug Interactions
Drug-Drug Interaction- Melalite Forte Cream 4% may interact with Chlorpromazine (to treat schizophrenia), Doxycycline (to treat bacterial infections), and Amiodaron (to treat irregular heartbeat).
Drug-Food Interaction- No interactions were found.
Drug-disease interaction- If you have skin cancer or any disease, you should inform your doctor before using it.
Direction for Use
One should apply Melalite Forte Cream 4% as advised by your doctor. The medicine is for external use only and is applied with the help of your fingertip and rubbed evenly on the area that is affected. After applying the cream, you should wash your hands immediately. A doctor will decide the frequency and duration of the application according to the patient's age and skin condition.
Storage
Store Melalite Forte Cream 4% at room temperature.
You should keep this medicine out of children's reach.
Diet and Lifestyle Advice
One should eat food rich in protein, such as chicken, yogurt, and eggs, because when there is a loss of protein, it may burn wounds and cause muscle breakdown to get some extra energy.
Eat food rich in quercetin, such as cherries, broccoli, apples, blueberries, and spinach.
Never use harsh products on the skin because it may damage it.
Drink as much water as you can, and avoid sugary drinking beverages.
Always keep your skin moisture
Before and after image for Melalite Forte cream
Disclaimer: The use of this image is for illustration purposes only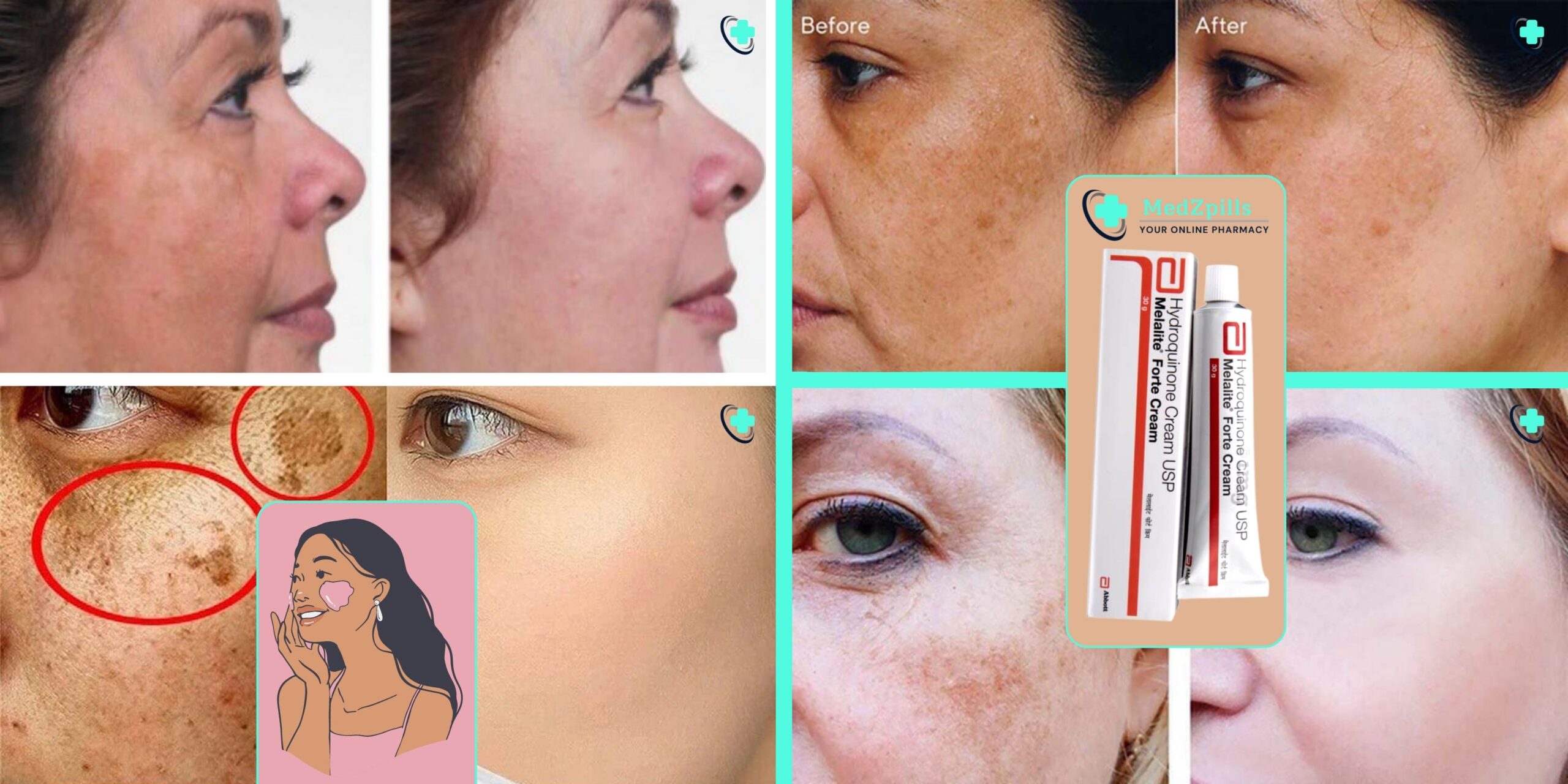 FAQs
Why do you use Melalite Forte Cream 4%?
You can use Melalite Forte Cream 4% to lighten darkened skin such as chloasma, Melasma, freckles, acne scars, and age spots.
Can you use Melalite Forte Cream 4% for Children?
No, Melalite Forte Cream 4% is not recommended for children who are less than 12 years. If you want to give it to your child, then it is important to consult with the child's doctors for some advice and look for suitable alternative therapy to treat the condition.
Is using Melalite Forte Cream 4% lighten the scars?
Melalite Forte Cream 4% is a natural skin-lightening medicine that will reduce the production of melanin and also improve the texture and sensitivity, texture, and also reduce uneven skin color. When you use it for some days, then it will lighten the scars that appear on your skin.
Can you go out in the day after using Melalite Forte Cream 4%?
Melalite Forte Cream 4% will make your skin sensitive to the harmful effects of sunlight. Therefore, it is advised to the person to use sunscreen and wear some protective clothing. It is advised to avoid sunlamps and booths.
Is it safe to use Melalite Forte Cream 4%?
Yes, using Melalite Forte Cream 4% is completely safe, but only if you use it as directed by the doctor. While applying the cream you should keep it away from the nose, eyes, and corner of your mouth because these areas are more prone. One should not use this medicine excessively because that may cause redness, discomfort, or peeling.
What are the things you should avoid while using this cream?
You should avoid exposure to sunlight when you use sunscreen and always wear protective clothing. Sometimes, even small amounts of sunlight can make the situation worse. Females should not use this medication if they use birth control pills, as it will be better to talk with the doctor and be careful!
Disclaimer:
Medzpills aims to provide consumers with reliable, trustworthy, and expert-reviewed information. This article has been reviewed qualified physician, an expert in the field. However, it is important to note that the information presented should not be used as a substitute for the advice of a qualified medical professional. The information provided serves only as a source of knowledge and may not cover all aspects of health conditions, lab tests, medications, potential side effects, drug interactions, warnings, alerts, and more.
It is highly recommended to consult with your doctor and address any concerns or questions you may have about a specific disease or medication. At Medzpills, we strive to supplement, rather than replace, the essential doctor-patient relationship.